When you talk about taking a fishing trip on Lake George, most people think about fishing for species like lake trout and landlocked salmon, but little is written about the black bass fishing on Lake George. This beautiful lake nestled into the Adirondacks can offer anglers excellent largemouth bass and smallmouth fishing opportunities. And right now the fall fishing is not good – it is great. As a long time tournament angler I have fished Lake George frequently and have covered all 32.19 miles (28,160 acres) of the lake. I would like to share with you not just how to catch smallmouth bass and largemouth bass, but also the best fishing spots to find both of these species. But don't tell anybody!
Lake George Bass
Lake George is divided into the North and the South Basins connected by the Narrows, all of which hold largemouth and smallmouth bass. Let's start in the Southern Basin where you can access the free launch located in the Lake George Beach State Park. This boat launch is only open prior to Memorial Day and after Labor Day.
Eastern Shore Plum Point
The first stop on the eastern shore of Lake George is Plum Point. This is a rocky area that drops sharply into 15 plus feet, the perfect place for smallmouth. Anglers should fish it early with top water baits like the Pop-R and later in the day move off the shallow waters into 15 feet and work any of the drop shot rigs. My favorite is to use a 4 ½ inch Stik-O-Worm rigged wacky style (hooked through the middle with hook exposed) and placed about 10 inches above your weight.
Dunham's Bay
Continuing up the east side of Lake George a little less than one mile is Dunham's Bay which is largemouth territory. There are submerged weed beds throughout this bay that you can work with a deep diving crankbait and jig-n-pig. However, do not leave this bay without pitching a 6 inch wacky worm in and around the docks. As a rule of thumb, let me add that wherever you fish on this lake before you leave any area toss a 6 inch Bass Pro Shop Stik-O-Worm rigged wacky style around. Let it sink slowly and hang on. There can be some really big surprises under these docks. Just be careful not to bang your lures off any of the boats tied up there.
Speaker Island
Next stop is Speaker Island about one and a half miles north of Dunham's Bay. This is one of the best smallmouth bass spots in the entire lake and do not leave until you fish all around it. Keep your boat in 10-15 feet of water and work a quarter ounce crawdad colored spider jig, casting it shallow and bouncing it out into the deeper water. But if you get there early in the morning or on an overcast day, work that Pop-R first.
Harris Bay
If you look east from Speaker Island you will see Harris Bay. This is one place you want to spend some time in. Go all the way into the back of the bay but be careful and pay attention to the buoys. If you have an electric trolling motor, use it here because it is shallow.
Concentrate on the east side of the bay – look for the weeds. It is also worth working the west side because that is where the deep weeds are found down to 25 feet or more. I use the plastics in the shallow weeds and half ounce spider jigs and drop shot rigs in the deeper water. This bay is one that no matter where you cast you have a chance at catching a bass.
Pilot Knob
Our next stop on Lake George requires about an eight mile ride up to Pilot Knob. There is a marina there with a ledge in front that is about a quarter of a mile long that drops sharply down to 40 feet. Use your depth finder or drop a buoy marker to locate and mark this drop. Fish the edge of the drop with deep diving crank baits like the Mann's 20 plus lure to get down to the smallmouth. If they are there, you will catch a lot of them.
Basin Bay and Boon Bay
Now directly across (west side) Lake George from Pilot Knob is Basin Bay, and a short distance south of it is Boon Bay, both of which have good weed growth that attracts largemouth bass. Fish their shorelines with spinner baits or plastics and you can also try a rubber frog over the weeds.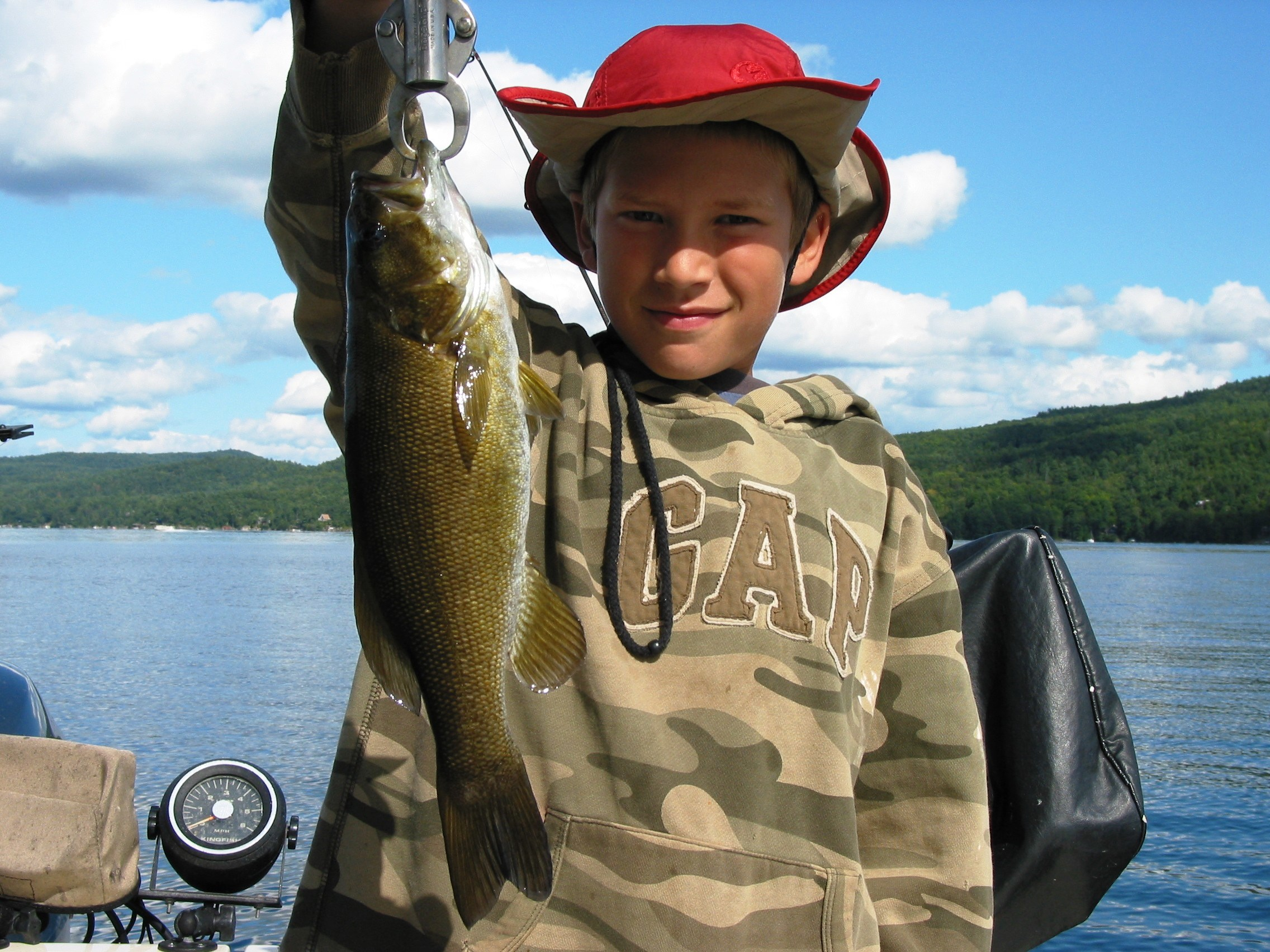 The Narrows
If you are looking for smallmouth bass, the Narrows is where you want to be. It is one area you have to watch and obey the channel and danger markers because there are a lot of rocks. But the smallies are there. In the fall the fish are often feeding in and around all the islands scattered here. Some of the islands that I would recommend are Oahu, Turtle, Big Burnt and Fork. These are just a few that have been consistent for me.
North Basin
To fish the North Basin of Lake George, I like to access the lake at the free State boat launch at Mossy Point. From here before heading out to the main lake, I recommend you go north into the small creek. Use your trolling motor here and fish the weeds and rock structure with spinner baits and plastics. Sometimes this little waterway will surprise you with some nice largemouth bass.
Turtle Rocks and Weeds Bay
Now let's head out into the big lake. This is another area where you want to stay in between the channel markers. The first stop is Turtle Rocks and Weeds Bay on the eastern shore. This is shallow and full of weeds and rocks that hold both largemouth and smallmouth. Here I would recommend plastics and also try the frog.
Indian Kettles
Heading south several miles directly across from Anthony's Nose is Indian Kettles. The underwater structure here is like a stairway. It is 10 deep feet close to shore and steps down in 5-10 feet intervals into 50 feet depth. Start in the shallower waters, then walk that quarter ounce crawdad jig down each step all along this area.
Western Shore
Actually this western shore is similar all the way south to Friends Point. When you catch one here put a buoy marker out because chances are good that you could be sitting on a school of smallies. Spend some time fishing the area around this point.
Hauge Boat Launch
My best largemouth spot in the North Basin is near the Hague boat launch. There is a weed bed that starts several hundred yards out from the shore and north of the launch. These weeds continue south just past the launch where they then dip back into the shoreline. This is definitely wacky worm country.
Over the years fishing Lake George's North Basin, I found that besides the islands, prominent points will also hold smallmouth. Those that I have marked on my maps south of Hague include Tower Point, Odell Island, Meadow Point and Agnes Island. Fish all of these starting from shallow to deep water.
Other Types of Fish Species in Lake George
While you're rounding up the smallmouth and largemouth alike, don't forget to keep an eye out for the many other fish species you can find within the Lake George watershed. Some of the other fish species you could catch on Lake George include: lake Trout, landlocked salmon (which are stocked annually!), yellow perch, northern pike, pumpkinseed, rock bass, smelt chain pickerel, brown bullhead, smelt, and black crappie, just to name a few!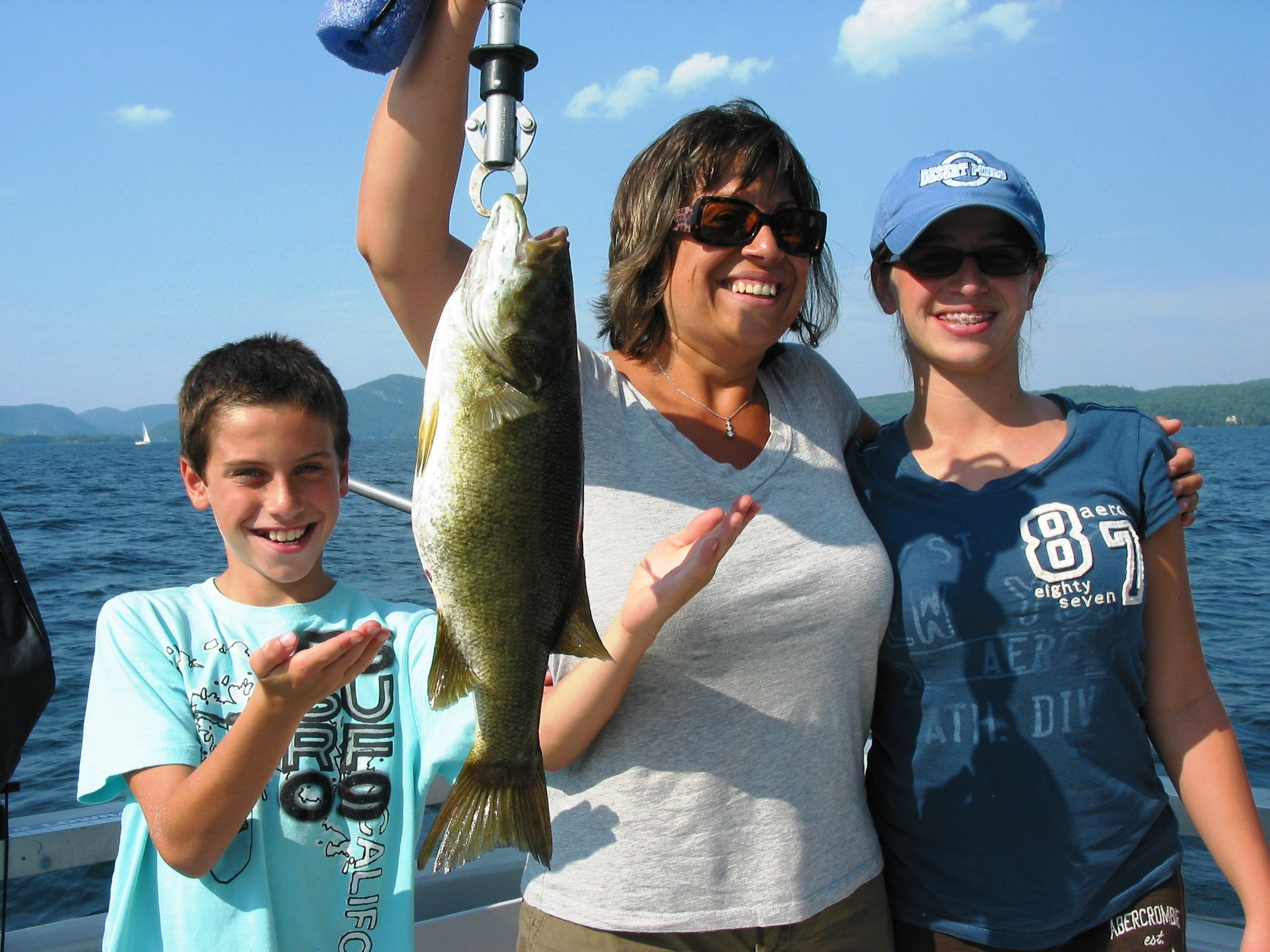 Things to Remember before you Fish Lake George
There are several things that you should do before fishing Lake George. The first is to get a Lake George boat registration sticker. Boats with a 10 hp or greater motor must display a current registration stick from the Lake George Park Commission. For additional details and associated fees and rules see the Lake George Park Commission Boat Registration page.
Similarly, even avid anglers should be sure to brush up on the current New York State fishing regulations for Lake George, and plan accordingly. Click here – Region 5 Special Fishing Regulations.
You should bring a detailed contour map of the Lake George area, and mark the locations of all of these fishing spots before you head out on your next fishing trip.
Do not forget your phone/camera because no matter where you are in the Adirondacks, you are going to be surrounded by some of the most colorful foliage in New York State. Why not make fishing Lake George a weekend trip. Accommodations are at off -season rates right now, and you will need two days to cover it all. Good luck.
Original Article By Ed Noonan
About the Author
Ed Noonan was a full time NYS licensed guide and full time outdoor writer with twice weekly columns in the Schenectady Gazette as well as writing freelance for a variety of outdoor magazines. He was a member of  NYS Outdoor Writers' Association and the NYS Outdoorsmen Hall of Fame and recipient of the NYSOWA and Bass Pro Shops' Pass It On Award. Ed passed away in 2023.